Jobs At Jammu Hospital Jalandhar
CSSD & OT Technician Jalandhar
Job description
All CSSD & Operation Theatre Work
Qualification –
Must have trained in the service or hospital program for Operating Room Technicians

Current BLS Card

Demonstrates ability to provide quality patient care.

Communicates and works effectively with people
Role:
Preparing the operation theatre for surgery. You will need to arrange the instruments and equipment required for a particular surgery. You will also clean and sterilise them before the procedure.
Arranging transport of patients. You might have to arrange wheelchairs or stretchers to transfer the patients to the operation theatre.
Providing technical assistance to the surgeons. You will be setting up, checking, and adjusting technical equipment. This can include the operating light source, the blood pressure (BP) and heart rate monitors, etc.

Arranging the instruments and supplies according to the surgery that is to be performed.

Following infection control protocols. You will be responsible for maintaining a sterile field for operation. It will be your duty to ensure that there is no contamination of surgery instruments or devices.

Cleaning up after the surgery. You will have to discard disposables and clean and sterilise the equipment.

Ensuring proper biomedical waste disposal. You will have to follow standardised protocols for infected, non-infected, sharp, and hazardous waste. For instance, using colour-coded disposal bags.

Ensuring the availability of medical and diagnostic supplies. You will have to make sure the operation theatre is well-stocked at all times. (e.g. gloves, tubes, catheters).

Working effectively with other team members. You will be a part of a team that consists of surgeons, anaesthetists, nurses, etc. and effective coordination is a must for the smooth flow of the surgery.
Experience : 2 to 3 Years
Industry Type: Hospital
Functional Area: Medical Services / Hospital
Employment Type: Full Time, Permanent
To Apply, Fill below given form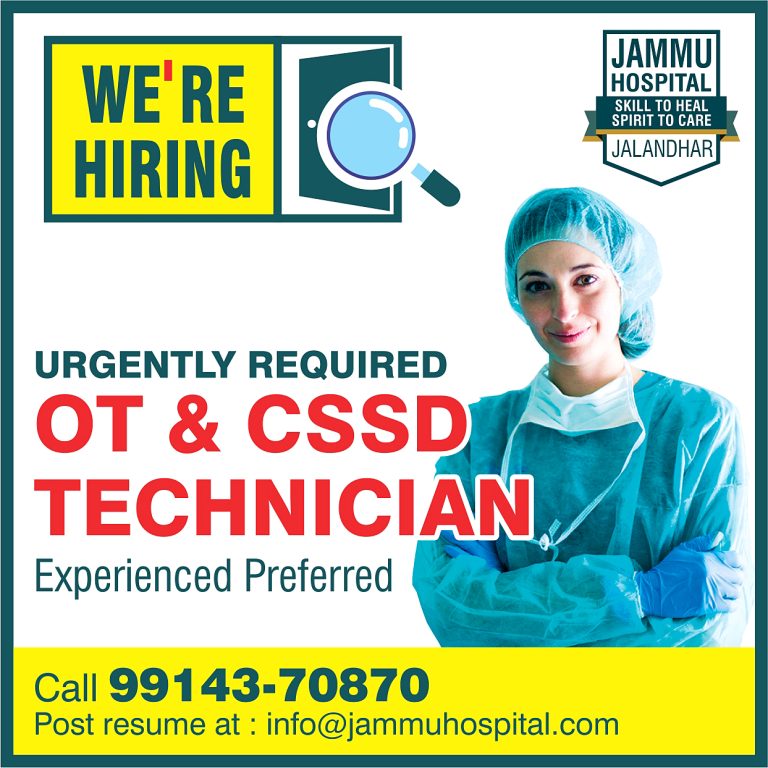 If we find you eligible for the Post, we will contact back.