LAPAROSCOPIC & LASER SURGERIES
BARIATRIC SURGERY APPOINTMENT
LAPAROSCOPIC SURGERY APPOINTMENT
First Centre of Excellence Hospital by Obesity Surgery Society of India
Fully Integrated OR1 Operation Theatres
Surgery with 3D Camera for Accuracy
Body Composition Analysis Machine
Certified Bariatric Surgery Fellowship Training Center by OSSI
You are at the right Place
LAPAROSCOPIC & LASER SURGERIES
BARIATRIC SURGERY APPOINTMENT
LAPAROSCOPIC SURGERY APPOINTMENT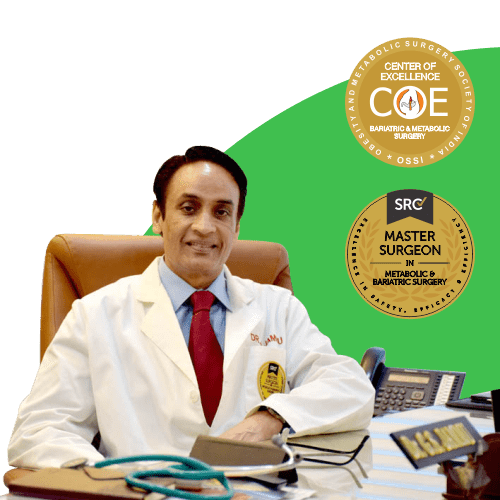 About Bariatric / Weight Loss Surgery Centre in Punjab
Jammu Hospital Jalandhar is a famous and Best Bariatric & Metabolic Surgery Center Jalandhar Punjab India & Dr. GS Jammu ( Best Bariatric Surgeon in Punjab India ) has to his credit more than 6500+ successful Bariatric Surgeries (Weight Loss Surgery).
Jammu Hospital has a unique distinction of being the First Bariatric Surgery Center in Punjab to be accredited with highest national quality accreditation, NABH. It is the first and the only non-corporate hospital of North India to have this quality accreditation according to which Jammu Hospital provides services and infrastructure par excellence, comparable to the best centers in the world. Jammu Hospital aims to provide highest degree of professional excellence to all at an affordable price.
Jammu Hospital feels proud by adding another feather to it's crown of being awarded as the First Centre of Excellence Hospital in the field of Bariatric & Metabolic Surgery in Punjab by Obesity Surgery Society of India.
Dr GS Jammu is also honoured by Master Surgeon Award in the field of Bariatric & Metabolic Surgery by Surgical Review Corporation, USA.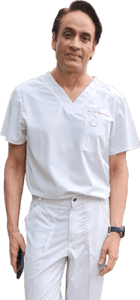 Performing all Types of Bariatric Surgery (Weight Loss Surgery) at Jammu Hospital
At Jammu Hospital, we perform all types of Advance & Routine Laparoscopic Surgeries
For Laser Surgery Appointment Call or Whatsapp: +91 99143-70870 or +91 181 2259600
M.S. Director and Head Department of SurgeryBariatric & Metabolic Surgeon
Dr. GS Jammu is the best bariatric surgeon in Jalandhar Punjab India. He is honoured by Master Surgeon Award in the field of Bariatric & Metabolic Surgery by Surgical Review Corporation, USA.
He started his career as a consultant laparoscopic surgeon and bariatric surgeon in Jalandhar Punjab upon completing his under graduate and post graduate degrees from DMC Ludhiana in 1995.
His firm belief in continuous self improvement has earned him the award of Master Surgeon in the field of Bariatric & Metabolic Surgery by Surgical Review Corporation, USA.
He is running Jammu Hospital in Jalandhar Punjab which is accredited with highest National & International Accreditations: COE ( Center of Excellence by OSSI ), NABH & IEF.
His center is performing the highest number of successful bariatric/weight loss/mini gastric bypass procedures in India.
Best Bariatric & Metabolic Surgery Center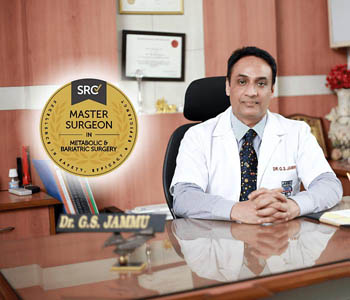 BARIATRIC SURGERY RESULTS AT JAMMU HOSPITAL JALANDHAR
What Is Bariatric Surgery Cost In Jalandhar Punjab?
Bariatric Surgery | Weight Loss Surgery cost in Jalandhar Punjab ranges from 2.5 lacs to 5 lacs.
What Factors Effect The Cost Of Bariatric Surgery?
Cost of surgery depends on multiple factors like :
Obesity associated diseases
Type of hospital room
Type of bariatric surgery suitable for individual patient
Age of Patient
Does Bariatric Surgery Save My Money?
Bariatric Surgery is lot cheaper when we calculate it with the benefits and money saved which was to be spent to cure the obesity associated diseases.
The approx expenditure of obesity related diseases likes Diabetes, Hypertension & Cardiovascular per year ranges to about 1 lac to 1.5 lac.
What Is Benefit Of Bariatric Surgery?
Benefits inlcude getting rid of obesity, Type 2 diabetes, Hypertension, High Cholesterol, Dyslipidemia, Snoring, Sleep Apnea, Polycystic Ovarian Disease and overall improvement in quality of life.
How Can I Find Exact Cost Of Bariatric Surgery?
To find the exact cost of your surgery you can fill in the below given CALCULATOR to estimate the cost of bariatric surgery for you.
Your discussion with our Bariatric Coordinator can be more helpful for you.
What Is Death Rate In Morbidly Obese Patients?
Death rates are found increasing by 200% in morbidly obese patients ( BMI > 40 ) .
Why Do We Prefer Mini Gastric Bypass Surgery Over Other Procedures, What is mini gastric bypass surgery?
Mini Gastric Bypass Surgery started in 1997 is a simple, easily done, revisable and reversible weight loss surgery. 
What Is Bariatric Surgery?
Bariatric Surgery is a type of procedure performed on people who are obese for the purpose of losing weight. It refers to the various procedures performed to treat obesity by modification of the gastrointestinal tract to reduce nutrient intake and absorption. It is a laparoscopic procedure done through small incisions.
Types Of Bariatric Surgery?
Mini Gastric Bypass Surgery (MGB)
Banded Mini Gastric Bypass Surgery
Endoscopic Sleeve Gastroplasty
Roux-en-Y Gastric Bypass
Laparoscopic Gastric Sleeve Resection
Gastric Balloon
Complications After Bariatric Surgery?
Very Few people have complications after surgery. These are usually minor and manageable which include :
Nausea, Vomiting, Dumping, Infection, Ulcer, Temporary Hair Fall, Formation of gall stone, Nutritional deficiency. These are some small problems that are solved with counseling and multivitamin supplementation.
Is Bariatric Surgery Cost-Effective?
The cost of the Bariatric Surgery or Weight Loss Surgery in Punjab India varies according to the procedure most of the people think that bariatric surgery is very expensive because as they have to pay all together but they don't think about long term benefits of the surgery.
According to me, this surgery is cost-effective; one important reason is that weight loss surgery resolves conditions associated with obesity such as type II diabetes, high cholesterol, etc., and so patients save money on related prescriptions, drugs, doctor visits, and a hospital visit. So, bariatric surgery is a step that increases your life expectancy. One starts living disease-free life with a normal weight and feels more active. It is a magic that changes your life.
Bariatric Surgery Cost In Jalandhar Punjab
Weight Loss Surgery Cost In Jalandhar Punjab
2.5 Lacs to 5 Lacs ( Price may vary as per patient treatment, comorbidities, Room Choice etc.)
Bariatric Surgeon in Jalandhar | Punjab
Contact for Bariatric Surgery Appointment
Bariatric Center | Weight Loss Center Location
Kapurthala Road, Near Sports College, Jalandhar ( Punjab ) INDIA
You availed our services, Post a Review